Paintless Dent Repair (PDR) by Direct Paint and Collision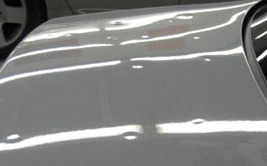 Direct Paint & Collision of Havertown, PA removes many smaller dents with a paintless dent removal process. Our skilled master technicians can carefully get rid of small dents and dings in your car's body work without the need for paint. We use the latest tools and techniques to eliminate dents without harming the paint. This saves our customers the cost of respraying body panels after body work has been performed.
Hail damage is often a good candidate for paintless dent repair. PDR has become increasingly common as the ability to repair large dents has grown. The appeal of using PDR instead of traditional body work is the speed and cost savings. Skilled technicians are able to repair many dents using the paintless process faster than traditional methods. The time saved means lower costs that are passed along to the customer.
We also offer full bumper repair services.
Benefits of paintless dent repair include:
No need for respray, paint, or body filler
Cost savings over traditional body work
Faster turn around
No risk of over spray
No need for paint color matching
Many types of dents can repaired with PDR including hail damage, door dings, and other small dents. The process can be used on dents up to the size of a football, depending on location and condition. The more resilient the paint and metal of the auto, the more likely the PDR process can be applied. This means that late model cars are better suited for PDR.
Call us today at (610)449-9162 and get those ugly dents removed from your car!